Knoxville Realtors Support Young Williams Animal Clinic in Heartwarming Partnership
Realtors are sponsoring a dog every month at an animal shelter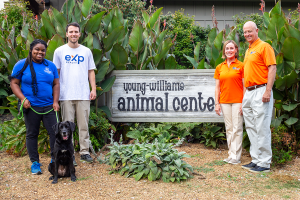 Knoxville, Tennessee – In a touching display of community support, The Goswitz Team with eXp Realty, a prominent real estate team based in Knoxville, TN has established an inspiring partnership with Young Williams Animal Clinic, a local animal shelter. This collaboration goes beyond the traditional realms of business, showcasing the team's commitment to making a difference in the lives of animals in need.
For over a year now, The Goswitz Team- Knoxville Realtors has been actively contributing to the welfare of animals at Young Williams Animal Clinic by sponsoring a dog each month. This initiative aims not only to assist the animal clinic but also to create a stronger bond between the local community and their furry friends in need of care and shelter.
The Goswitz Team's dedication to this cause has not gone unnoticed. Young Williams Animal Clinic, known for its tireless efforts in rescuing, rehabilitating, and rehoming animals, appreciates the unwavering support from the local real estate team. The funds provided by The Goswitz Team play a crucial role in covering the medical expenses, food, and shelter for these animals while they await their forever homes.
"Our real estate team is very grateful for all of our past clients and because of them we believe in giving back to our community. There's no better way to do that than by helping our four-legged friends at Young Williams Animal Clinic," said Patrick Goswitz, a Realtor at The Goswitz Team along with his parents Frank & Jennifer Goswitz. "These animals deserve love and care just like anyone else, and we're honored to be a part of their journey toward finding loving families."
The partnership between The Goswitz Team and Young Williams Animal Clinic is a testament to the power of collaboration between local businesses and charitable organizations. By pooling their resources, they can make a more significant impact on the lives of animals in need.
"We are deeply thankful for The Goswitz Team's unwavering support" expressed, Young Williams Animal Clinic. "Community partnerships like this one remind us that compassion knows no boundaries. Together, we're making a significant difference in the lives of the animals we care for"
This heartwarming partnership demonstrates that businesses can do more than just meet their clients' needs; they can also play an active role in enhancing the well-being of the local community and its most vulnerable members. The Goswitz Team's commitment to supporting Young Williams Animal Clinic sets a shining example for other businesses looking to make a positive difference in their neighborhoods. Together, they are proving that small acts of kindness can lead to a brighter and more compassionate community for all.
For more information about how you can help or adopt from Young Williams Animal Clinic, please visit their website or contact them directly. There are so many ways to help Young Williams Animal Clinic and they are so grateful for any help that you can provide!
Source: https://thenewsfront.com/knoxville-realtors-support-young-williams-animal-clinic-in-heartwarming-partnership/
About The Goswitz Team- Knoxville Realtors
Patrick, Frank, and Jennifer Goswitz have a combined 75 plus years of Knoxville real estate experience. They consistently rank in the top 100 among ALL Realtors across Tennessee in both transactions and volume.
Contact The Goswitz Team- Knoxville Realtors
201 N Weisgarber Rd
Knoxville
Tennessee 37919
United States
865-588-1234
Website: https://goswitz.com/
Powered by

EIN Presswire does not exercise editorial control over third-party content provided, uploaded, published, or distributed by users of EIN Presswire. We are a distributor, not a publisher, of 3rd party content. Such content may contain the views, opinions, statements, offers, and other material of the respective users, suppliers, participants, or authors.
Submit your press release